Anastasia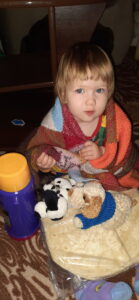 Anastasia lives in frontline town

in the south or Ukraine.  
She is really afaid of air sirens.  Anastasia 

can't go to kindergarten, playground, to walk with children in the park 
because she always spends her time at home or near her house. 
When sirens wailing

Anastasia

 needs to rush towards shelter. 
The girl is very clever, cheerful, likes to draw, dancing and she can't understand why she must hide 
in the cold, dark shelter.

Her family needs support today.