Anna-Maria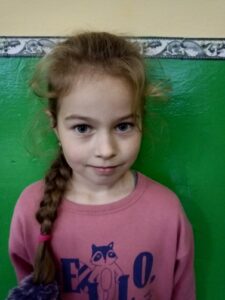 My daughter's name is Fedys Anna-Maria, she studies in the 3rd grade of a local school. We live in a small mountain village. The village is far from cities of regional importance, living conditions here are quite difficult, there is no gas, there is no work. Mostly men went to earn money abroad, but with the beginning of the war this became impossible.
With the beginning of the Covid-19 pandemic, and now with the war in our country, children often learn remotely. This is a very big problem, since the child has no personal gadgets and constant problems with the Internet connection. The child is very fond of dancing and singing, drawing. But since we live far from the nearest city, there is no possibility to take the child to classes.
The school my child attends is small and in need of repair. There is no gas in the village and the school has stove heating. The school needs modern equipment. There is no gym where children could exercise and modern computer equipment that would give children the opportunity to develop. The school does not have a canteen, so the child must eat dry food.
We live in a very difficult time with the hope that everything will end soon. I really want my child to study in our rural school in a quiet time, without worries about air anxiety, in good conditions. We hope that soon everything will be settled and the war will end.