Daria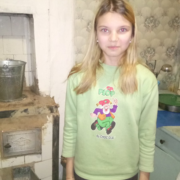 Before the beginning of the war with Russia, which began on February
24, 2022, Daria had been living in the Eastern part of Ukraine. Her
hometown was under constant shelling. It forced Daria and her family
to leave their city and move to another region. They were temporarily
staying with strangers who provided shelter for them. For the last 9
months, they visited all corners of Ukraine. The war made Daria's family leave in the middle of the night, as bombs were falling very close to their house. Because of that,
they did not have time to take their belongings. Daria is still under
stress. At the moment, her family is renting a small house in the village.
Daria needs support and friends.  She hardly leaves her house.
Daria's parents lost their jobs because of the war. Daria's mother, due to constant stress, is often hospitalized. She has got a lot of health problems. The city
where Daria and her family
lived before the beginning of the war is occupied by Russia now. Their
house was almost destroyed. Nevertheless, Daria dreams to go back home
as soon as possible. The average monthly family income is  $180.
Daria can not go to school. Now school studying is provided online,
via a mobile phone. The family feels very uncertain about the future.