Darina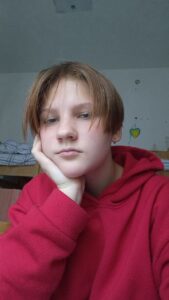 Greetings! I was born in a big city in the east of Ukraine.  On the night 24 of February, I heard the sound of a siren. My school was blown up. I was very scared. The war started. Later, my parents decided that my mom and I should go to a safer area. At the moment we are living in the center of Ukraine at the dormitory for refugees.  I'm interested in drawing, sports and music. I also like Maths! I like to explain some Maths' sums and tasks to other kids. It's very interesting! I don't go to a local school because I have online lessons at my school. But power outages don't help with studies.  It's very hard to study remotely, because my notebook is very old and outdated.  My mom and I have a hard time because we have a crisis with money. My father lost his work at the beginning
of the war. I need school supplies and clothes. I believe that this war will end soon and we will come back to native home soon. I really want to go home and
see my relatives and friends.