Daryna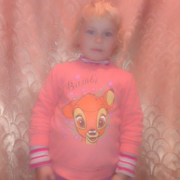 Daryna lived with her mother, father and brother when war started. Dad went to fight and is still on frontlines. Ultimately it became dangerous and Daryna, her mom and brother had to evacuate from their native town.  Daryna's mum lost her job. They arrived at an
old abandoned house where there were no living conditions. There was no heating in
the house, so they had to move again and live with relatives, who are also relocated,
at least for the winter time. Daryna's dad is still serving in the army on the front-line.
Daryna goes to kindergarten. She is looking forward to her dad's returning home.
Before the war, she attended a choreography group. She dreams of the end of the war
so she could continue to do choreography. The family does not have enough money even for the most necessary things.