Daryna ID:7524
ID: 7524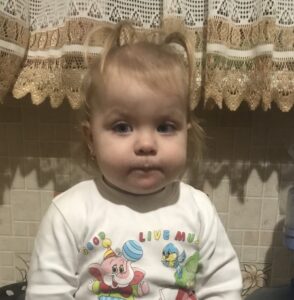 Daryna is a little girl who lives with her family in the north of Ukraine, 

not far from sadly famous

 Chernobyl

 nuclear power station

. With the beginning of a full-scale invasion of the territory of Ukraine and the community where Daryna lives, the child experienced great stress. In the first days of the war, Daryna was very frightened by explosions and the constant roar of military equipment, and now she is afraid of loud noises. Daryna felt ill because of staying in the damp and cold basement

 for days

. Daryna, her older brother and mother were 

later 

forced to move to a safer place. For several months, they lived in another region. Daryna's father lost his job when the war started, and her mother is on maternity leave. The income of a family with two children is small and currently does not cover all needs. Daryna needs warm clothes, shoes, better food, vitamins. Daryna is an active and cheerful girl, loves to learn new things, plays with her brother with enthusiasm and loves to listen to fairy tales. The mother makes everything to make the girl grow and develop according to her age. Your help and support through sponsorship will help support the child's standard of living.