Diana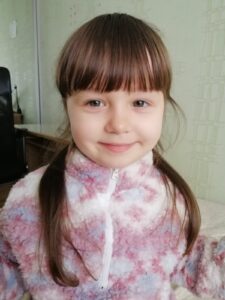 Diana is a wonderful, friendly girl. Diana lives in a small town in the north of the country in a poor family with two brothers. Before the war, Diana went to kindergarten. But, unfortunately, after February 24, Diana's life changed. The city was shelled and Diana was forced to hide in the basement.
 One rocket exploded not far from where Diana's family was hiding.
Ever since then
 Diana has become a bit withdrawn, sleeps poorly, is afraid to stay in the dark, afraid of loud noise
, wants to hide all the time, just not stable behavior anymore
.
 She had never been like this before. 
 Diana likes drawing, dancing, doing puzzles, playing with her brothers and listening fairy tales. Diana is inquisitive, friendly, quickly finds a common language with children, likes to help mother and grandmother in the kitchen. Diana enjoys baking pies and buns. The family lives only on the father`s salary. Diana`s mother does not work. Your kind support will help Diana to improve living conditions and growth.