Elizabeth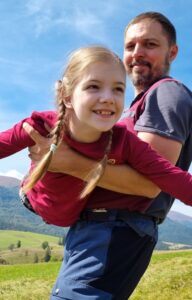 Hello, I am Elizabeth. I have a dream: to stand and walk on my own. I have a medical condition and two years ago I had surgery on both of my legs in Ukraine. This operation was supposed to help me start walking, but after the surgery it became worse than it was before. Perhaps there is a good doctor in the west who could advise how to approach the situation with my legs.  At least three times a week I need rehabilitation training to maintain my condition. But I don't just sit.  I work hard on my studies. I already speak three languages: Ukrainian, English and Russian. On the morning of my tenth birthday, my dad woke me up and told me that the war began. It was the saddest birthday ever. Since then, everything has been divided into before and after the war. I love robots and some technology. My favorite cartoon is "Transformers". My favorite character from this cartoon is Blade. He is so funny and he can fly. I really dream of flying on an airplane.
My dad is not with us now because of the war.  Our family had to evacuate from east to west of Ukraine when the war started. I went to school in first class in my home town.
My mom was always with me at school.  At the school there isn't acceptable conditions and equipment for me, a lot of stairs and steps. It was the reason for moving my education process to home. Teachers and trainers come to me during the week. But I want to visit school and have friends. I also have an increased sensitivity to alarm sounds. Every time the military alarm is turned on, I have a very hard time enduring its sound. Today I have a constant need to pay for rehabilitation training and we have to pay for school online. And also I need an active wheelchair for independent movement. But my real dream is to walk on my own. Perhaps it is possible.