Marharyta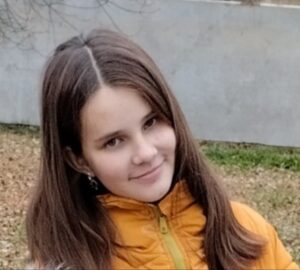 Good day! My name is Marharyta, I live in a city in the center of Ukraine. I recently moved because the ecology of my native town and specific place where our apartment was – it was right near a huge factory, very harmful to health. It's specific to me as I have a disease of the thyroid gland (chronic autoimmune thyroiditis). When the large-scale rocket attacks began, our family went to the West of Ukraine. But we missed our home very much and after some months reluctanly returned, even though it's more dangerous here.
I like to draw, when I draw , I feel good and my mood improves. I have been drawing since I was 5 years old. Now I am fascinated by photography, it's a magical art, because a photo is a frozen moment. My mom gave me a camera and I'm raising money for photography courses. I dream of becoming an outstanding photo-artist, for this I need to study atspecial photography courses. And for now I study atschool. I need for help because I am studying online and I need a quality computer to be able to study. My current is very old and it is difficult to do homework on it.
I love cats. Also I Like McDonalds and travelling. I even have my own suitcase with Mignon in blue and yellow colors, like the flag of my Ukraine. I love my Motherland. It's veryscary when rockets explode over my home. When the war is over, I would love to be able to travel, and take photos and see my friends and live in safety. I wish Peace to all of us!