Marina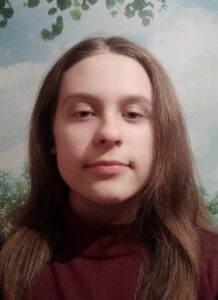 Marina was born and lives in a small village in the north of Ukraine. Marina's father died. Dad had been ill with oncology for a long time, all the money that the family saved for Marina's education was spent on his treatment, but dad died. With the beginning of the war, Marina's mother lost her job, and she stood at the job center. Currently works as a cultural center librarian, at part-time. Marina receives assistance – $62. The total family income is $138. Half of the income is spent on utility bills, the other half on food.  Marina needs educational materials. Marina is a kind, honest girl who loves classical music and animals. Sings in the choir and composes musical works. He wants the war to end soon so that he can travel around Ukraine.
Unfortunately, the family does not have enough money to buy clothes and shoes either.
In order to save at least a little, the family grows vegetables and fruits in their garden. The mother is trying to give the child decent living conditions and development, but the family is in great need of help to carry on.