Nazar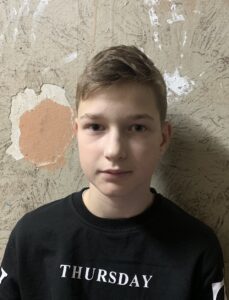 I was born and raised in the north of Ukraine. During the russian federation attack on Ukraine, I moved to the west in October 2022. But my hometown will always remain in my heart . I live and study at the boarding school.
To distract myself from the events that are currently taking place in Ukraine,
I play football, in my spare time I love cooking, I also love lego designers.
From St. Nicholas I want the only one… Peace.
I'd like to have lego, shoes and a penny board.
I miss my mum very much. She is far from me.