Oleg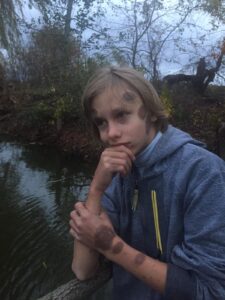 Oleg lives with his father, mother and his younger brother.
Mom works in a neighboring village 30 kilometers away. Dad is an engineer at a TV and communication company. Approximate total monthly income of the family is $220. Income levels have declined since the start of the war in February 2022. After paying utility bills for travel to work, to school, there is little left for children.
Oleg was born with a congenital skin defect (approximately 80% of the skin is covered with melocentric nevi and hairline). After visiting various doctors and hospitals, Oleg's mother was told this diagnosis is not treatable in Ukraine.
As time passed, Oleg went to kindergarten, school, attended the taekwondo section, where he won prizes. He grew up like an ordinary child without significant complexes that he is not like everyone else. We thank God for every day we live. Oleg needs to systematically undergo a course of improvement and a balanced diet of vitamin nutrition.