Polina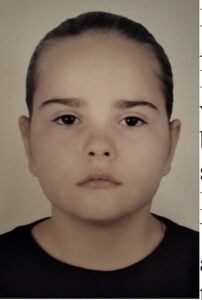 I live in the north of Ukraine with my mother, grandmother and younger brother. My dad died in the war in 2014 during the first phase of the Ukraine – Russia war. He served in the Ukrainian army and died on the frontlines. When the February (current) war started, I was at home and was able to leave my town only twenty days after the war started, before that – we had no humanitarian corridor. During those 20 days there was no water, heat, electricity and sewage in my town.
We then evacuated to Latvia but in September, my family and I returned home. I study at school, but I study online, we rarely have lights. I like to draw and take photos very much. I like to draw different pictures, but now I am very interested in drawing in anime style.
I like to travel – I like the Ukrainian Carpathian mountains. I also know how to swim and like to play with other children. Unfortunately, now, due to constant air alarms, it is not always possible to play outside. I like watching movies – I like Paddington. I like to sew and embroider, but I'm just learning how to do it. I like to visit new cities, see interesting things. I love playing on playgrounds, especially the ones where you can climb on the ropes. I like animals. I have a cat. And now I am raising a puppy. Also, this is kind of funny, but I like to watch some insects. I am afraid of spiders, but I like to watch ladybugs and ants. I love when someone reads books to me. Now my aunt is reading me the book "Captain Grant's Children". An interesting book about travel and adventure.
I need help with getting a used a computer as I need to study online. I'm learning English, but I'm not very good at it yet so I asked my aunt to write down everything I said to her.