Sofia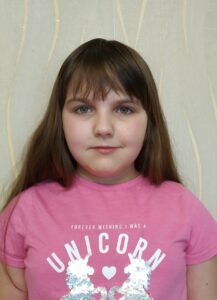 Sofia was born in a village in the north of Ukraine. When the war started her family evacuated with mother only, as father went to the army. Sofia also has a brother, grandmother and a disabled grandfather.
Her father Ruslan later died while performing his military duty during the battle.
He was the only breadwinner in the family. Mother took care of the children, who were often sick, and could not start working. Sofia has enlarged adenoids and even a common cold is treated for a long time and requires additional medication.
Sofia is studying remotely now. She helps her mother and grandmother around the house, likes to teach her younger brother. She loves animals, she's into cooking and dreams of becoming a confectioner one day.
Sofia's mother has no permanent income. Grandparents used to help with money for food and clothes; Sofia's classmates' parents paid for her copybooks. Her grandfather has suffered another stroke and needs constant care, expensive medication and rehabilitation. Sofia needs warm winter clothes and medicine and quality food.