Uliana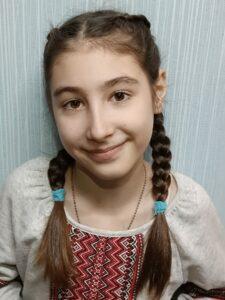 Hello! 

I am Uliana from the small town in northern Ukraine. I am studying in the 5th grade at 

school

 and

 when we can afford it –

 at the local art school in the Vocal-Piano class. During the war in our town, the art school was damage

d

 and we were not able to 

study for that reason as well

. During the bombing of our city, our laptop fell and broke, 

our old

electric piano was also damaged, some keys were broken. Despite this, I passed the exam well. For some time, we studied remotely. This is very inconvenient.I also practice at the dance studio, try to help volunteers, make amulets for defenders, bake cookies, draw pictures. I gladly take part in concerts organized in our town. I have a younger sister with special needs. When the air raid siren sounds, I am always by her side because she is very afraid, and I try to cheer her up. My parents try to do everything so that we have a happy childhood, despite the events that are happening in our country. And we just want peace.