Valeria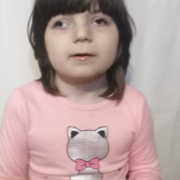 Valeria was born with a disability, has congenital hydrocephalus and child cerebral palsy. The war has made her situation much worse. Valeria lives with his mother and grandmother. She constantly needs expensive treatment, examination and rehabilitation. During rehabilitation, she needs to work with a speech therapist, a psychologist, and a physical therapy trainer. Take a few steps on your own and walk well holding hands.
Valeria likes to watch cartoons and play with toys. She needs to study at school
on an individual basis. Valeria likes to work with teachers and learn
something new (hold a pen, write, draw, count), and acquire new skills.
Today Valeria's family needs funds for treatment and rehabilitation, as the family's total income is $400, which is not enough to take proper care of Valeria.