Volodymyr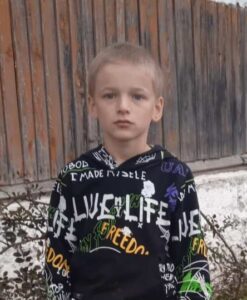 My son's name is Volodymyr, he studies in the 4th grade of the local school. We live in a remote mountain village where living conditions are very difficult.
Our family consists of 7 people. These are parents and 5 children, 4 boys and a girl.
Volodymyr's older brother joined the Ukrainian army and is fighting for our freedom. Our family has many children and is low-income. Parents are pensioners.
We receive financial assistance from the state – $400, plus a pension – $170 per month. This money will not be enough to pay all the payments, buy food and clothes for the children. So we all have to survive by working hard in the fields.
Volodymyr studies at a local school, which is in dire need of repair and reconstruction.
The school is very small and old. There is neither a sports ground nor a canteen. The furniture is very old and worn. It is very difficult to get to school because there is no transport, children have to walk 4-5 km every day to get to school in any weather. We used to have a school bus, but now it's broken down and there's no funding to fix it. Children also have to hide almost every day in a bomb shelter, which is actually a cold concrete basement without heating. Children are forced to sit there for hours, and it's a really freezing place, people can't sit there for long.
Volodymyr dreams of developing sports skills and becoming a football player in the future. I really want to improve the conditions for my child's education. We want the war to end, the eldest son to return home and peace in our country.