Yana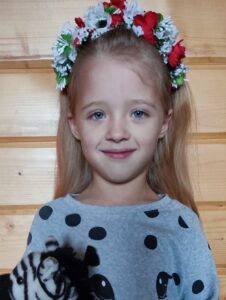 I am Yana. Now I live in the very west of Ukraine.
Before the start of the war my mom, my my brother and I lived in the north, not far from the border. On February 24 , we were bombed, we left the city. It was very scary there, every day we heard explosions and hid in the basement. Then we moved to the Carpathian mountains in the west. It was a very long drive.
Presently I go to school here, but there are no lights sometimes. I study in the first grade. I have very kind teacher and good friends. I love painting, dancing and play with snow.
I really want to attend the dance club. Winter is coming soon, I would like a warm suit with Hello Kitty and a sled. I dream that the war will end and my family and I will return home as soon as possible.