Yura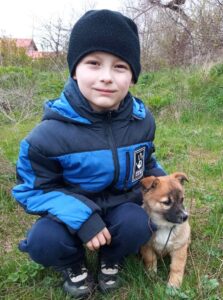 Yura lives in central/eastern region of Ukraine. Yura is a comprehensively developed, modest and shy boy. Yura is interested in football, all his walks always end up with ball games. But his greatest passion is animals, with which he perfectly finds a common language. A dog and a cat are his faithful friends. Yura is in the 3rd grade, has proven himself to be an excellent pupil, the teacher regularly praises him.
Yura is growing into a small engineer. Now the studying is provided online, which is usually reflected in communication with friends, who he misses. His father, Volodymyr, before the war, worked as a geodetic engineer. But there has been no work for the last 7 months.
All this time was spent looking for a job, but unfortunately he had to interrupt himself with small part-time jobs that did not bring significant income. In May, as a volunteer, Yura's father worked as a surveyor in the city of Bucha on the construction of temporary housing for victims of this terrible war. Yura's mother, Olena, works as a bridge crane operator at a metallurgical enterprise. She often does not work, because she is being sent from work at her own expense. At the same time, the salary is not paid. She works in a hot workshop, where instead of oxygen, dust flies in the air, which is very harmful to the body. As a result, there are constant problems with the respiratory system. The plant is on the verge of shutdown, and most likely from the New Year she will also become unemployed. At the same time, Yura's dad has the whole set of serious diseases, such as an ulcer, hepatitis, and heart problems. In the middle of November, a crisis happened, a pre-infarction condition. Yura's grandfather has almost lost his sight. Yura's grandmother has serious problems with her legs, she hardly gets out of bed. Unfortunately, there are not enough funds even for medicines, which are vitally necessary for everyone, let alone for a normal life. It is very scary to wait for what is going to be tomorrow.